星星眼~so pretty~so good~
Caught the ending of China's routine, followed by Japan, Spain and then Russia. Going to watch the entire thing again on Channel 5 later at 5.30PM
Apparently this is the first time Japan did not medal in Olympics history...I thought Spain's routine is already pretty damn good. Russia is even better! o_O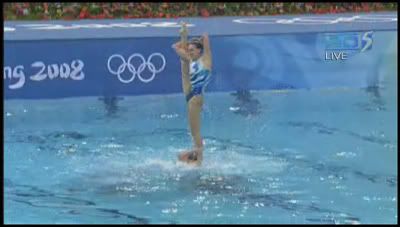 So flexible~~ Spinning as she was lowered into the water again.
So good so good, it's so difficult to capture any of their jumps. So fast. They took gold. Apparently again for the x-th time... Accordingly to the commenter, Russia taught synchronized swimming as a sport in school. o_O Why do we not have such cool sports in our school. LOL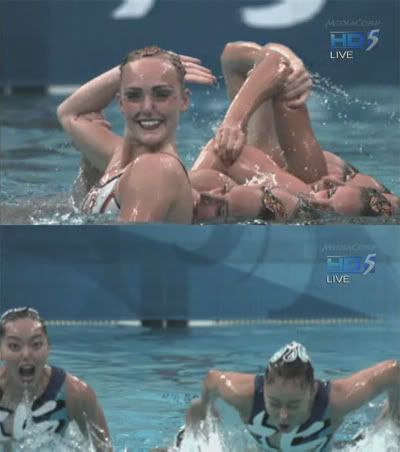 All of the swimmers look a bit like aliens because of the things they put on their noses. LOL The bottom pic is of the Japan team. LOL Love the face of the girl on the left. Their routine quite graceful despite the face.
They are actually playing Spice Girls' Viva Forever at the National Aquatics Centre while waiting out for podium to be set up etc. dots.